Veterinary
Consulting Services
Experienced and Compassionate
Veterinary Consultant
Animal Sheltering Services
Perform Operational Assessments/Audits

Create and Update Manuals of Policy and Procedure

Conduct Veterinary Training Programs for Veterinary, Animal Care, and Law Enforcement Staff
Animal Abuse/Cruelty Case Support
Crime Scene Investigation

Crime Scene Investigation – Collaborating With Local Law Enforcement

Veterinary Medical Case Work-Up

Expert Witness Testimony (Specializing in Dog and Cockfighting Cases)
Veterinary Association Conferences

Veterinary Technician Programs

 

To request assistance with an animal abuse case or to schedule Doctor Dena for a presentation, she can be reached at: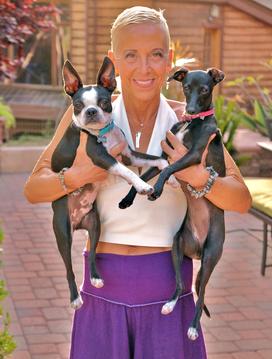 Doctor Dena's Veterinary Bio
Dena Mangiamele DVM, MPVM, MFS, is an animal shelter and forensic veterinarian. She received her degree in veterinary medicine from the Ohio State College of Veterinary Medicine. She earned her Master's in Preventive Veterinary Medicine from the University of California, Davis, College of Veterinary Medicine. She was selected as a Preventive Medicine Resident with the California Department of Health Services, Veterinary Public Health Unit. She received her Master's in Forensic Science from National University.
In 1995, she became the Chief Veterinarian for the City of Los Angeles Department of Animal Regulation. In 1998, she was awarded Shelter Veterinarian of the Year by the American Humane Association, and prior to her departure from Los Angeles to become the Director of San Diego County Animal Control, she received several Resolutions and Commendations by the Los Angeles City Council.
Doctor Mangiamele currently operates a veterinary consulting business, providing animal sheltering agencies with operational assessments, writing manuals of policy and procedure, and providing expert witness testimony in animal cruelty investigations, with specialization in dogfighting cases across the country. She has also created a training division that provides classes for animal shelter employees on animal handling, medical care, and humane euthanasia. The division also provides classes for animal control officers and veterinary medical staff on conducting circus inspections and dogfighting investigations.